Teaching Resources for checkout. Contact education@idahomuseum.org
Idaho Rock and Mineral Box
$10.00 per week 
This resource can be checked out for up to two weeks at a time.
25 Samples with content binder
4th grade and up
Portable Seismometer
$10.00 per week
This resource can be checked out for up to two weeks at a time.
Includes two slinkys
4th grade and up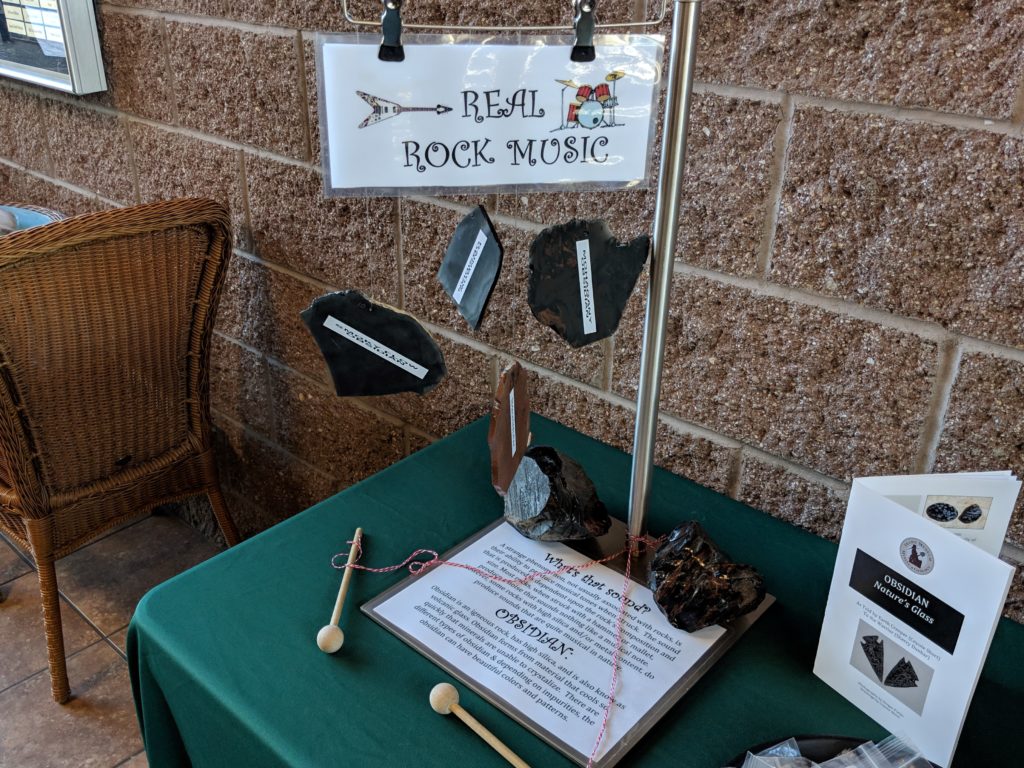 REAL Rock Music 
$10.00 per week
This resource can be checked out for up to two weeks at a time.
Includes obsidian & content binder.
Ages 3 and up
Research & Document Recommendations
Learning the Basics of Geology
News and information about geology and earth science can be found at geology.com It's an incredible one-stop-shop for information.
Have some specific questions about the basics of geology?  Check out Ask GeoMan.   It is clear that the site's author puts his energy into developing content that is easily understood, without flashy presentation. With about 14 million visits, it looks like he has quite a following!  Most of us could learn at least a couple of new things from GeoMan.
Here is a brochure on the rock cycle, developed by IMMG.
Other great sources of information:
Western North America Geology
Many of the landforms and geologic processes in western North American have been shaped by 'Basin and Range' extension of the continent.  This extension refers to the widening and thinning of the continent, creating parallel mountain ranges and valleys that we see today.  Nevada is almost entirely covered by these parallel mountain ranges, separated by flat valleys.
This animation video, attributed to Dr. Tanya Atwater, shows the interplay between the (ancient) subducting Farallon plate, the westward migration of North America, and northwest-migrating Pacific plate. For reference, note the passage of time as changes take place.
Observe the formation of the San Andreas fault system in California and Mexico appear as the Farallon plate finally meets its end. It is the 'relaxing' of the continent that widens Nevada to nearly double its former width. Idaho is not unscathed in the process, including the Treasure Valley and the Challis area.
Local Geology of the Boise Valley
Geologic Map of the Boise Valley and Adjoining Area, Western Snake River Plain is interesting to study, especially if you are a resident of the Treasure Valley.  The map can be ordered from the Idaho Geological Survey, or simply download the PDF.  The quality of the image is high enough to make it worthwhile to print locally, though it's difficult to beat $5 (plus shipping) if you decide to order one.
Geology and Geomorphology of the Boise Valley and Adjoining Areas, Western Snake River Plain, Idaho is a downloadable booklet written by a geologist from the Idaho Geological Survey who thoroughly studied the Boise Valley. Most of us who are not geologists may be overwhelmed with some of the scientific information. However, it is the richest source of information available on the Boise Valley that we have seen, and is a worthwhile read. It is helpful to download the geologic map (above) of the Boise Valley for reference.
A New Resource for Learning Geology - Right in Your Back Yard
Click on the link to find out how students can learn the basics of geology with simple activities right in their back yard, or anywhere they can access soil and rocks. This was developed by Hermann Samano and offered to IMMG free of charge.