The IMMG offers tours for classroom field  trips, home-school groups, and other interested youth  organizations.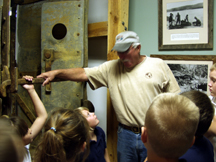 On the Museum Tour the youth group will learn about:
Rock and mineral identification
Geology fundamentals
Idaho's geologic history
Idaho's mining history
Idaho fossils
Uses of rocks & minerals
Idaho gem origins
On the Hillside Geo-Hike the youth group will learn about:
Ancient Lake Idaho
Warm Springs geothermal system
Table Rock sandstone and associated features
The story behind Boise's benches
Local volcanics
The Idaho Batholith
Local evidence of geologic processes
School Tour Details:
Tours are about 1.5 hours long and include both a hillside geology hike and a museum experience.
Tours are available for grades K-12 and will be appropriate for the age group.
Tours are available for students in public, charter, private, religious and home schools, and day cares.
Minimum age is 5 years old.
Maximum group size is 50 students.

If the group is larger than 25 students, it will be broken into 2 groups and one group will be on the hill while the other is in the museum.
Groups smaller than 10 students will be accommodated at the discretion of the Tour Coordinator.

Cost is $2 per child, with a minimum group charge of $20.
Tours are scheduled Monday-Friday, April through October. No tours in July.
Tours are conducted between 9 am and 2:00 pm. No tours after 2 pm.
Three weeks advance notice is required to setup a school tour for your group.
The museum appreciates and welcomes parent help. In fact, we may need your help with supervision and activities. It is best that parents not bring younger siblings on the tour.
Teachers, bus drivers, and parent-helpers are free. All others are $2 each.
Call Eliza at 208-571-5720 or email: education@idahomuseum.org