Check out our wide variety of educational programs!
---
School Tours
The IMMG offers tours for classroom field  trips, home-school groups, and other interested youth  organizations. Tours take about 1.5 hours and include a Museum Tour and a Foothills  Geo-Hike.
---
Scouts Badge Program
The IMMG  offers programs  to assist Boy Scouts (Cubs and Webelos) and Girl Scouts  to meet geology badge requirements. For more information or to schedule a session, contact John Fortier at 916-878-0776 or email us at education@idahomuseum.org.
---
Geo-Workshops
The IMMG offers hands-on workshops for both youth and adults. Topics include rocks, minerals, mining history, paleontology, and archeology.
---
Field Trips
The IMMG is famous for it's field trips, where we tromp around Idaho with an expert to see and discuss geology and mining history points of interest.
---
Lectures
Each year we invite a variety of geology and mining history topics to share their knowledge with us. Lectures take place in our Learning Center.
See our 2018 lecture schedule…
---
Rock Party
At our annual Rock Party, hundreds of adults and young folks participate in hands-on activities, lectures, tours, hillside geo-hikes, and more! Our 2018 Rock Party is scheduled for September 16.
---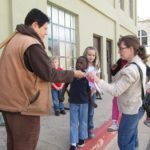 Mineral I.D. Friday
One of our long-time volunteer geologists Coyote Short P.G. is available Wednesday-Friday from 12 to 4 pm to identify your rock, mineral, or fossil. She can also answer your questions about geology and mining. She is a walking encyclopedia! No need to call ahead – just show up with your curiosity.